'Sad But True Volume III' - out now on CD and Vinyl
February 10, 2014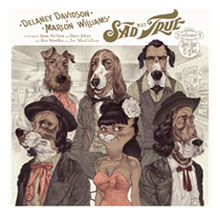 Delaney and Marlon are back - louder, bigger and definitely darker than before..
Everybody's favourite Lyttelton/Melbourne duo of Delaney Davidson and Marlon Williams are back with the third offer in the Sad But True album series - 'Sad But True Volume III - Juke Box B-Sides', out on Lyttelton Records.
Here's what Lyttelton Records have to say:
Louder, bigger and more developed and definitely a darker version of the vision than we saw in Volume 1. A fuller band sound, nastier, ruder. The late night teenage cousin of the youth we saw rise and stretch with the dawn in the blushing modesty of Volume 1. Raucous covers sit beside self-penned classics, and the reverent treatment of songs their friends have written stand again as a true testament to their worship of the song. Borders are again disregarded and the rule book tossed away as they rip through songs of Guns, Devils, Late Night Heartache, Hangings, Infanticide, True Fidelity and Candy.
Summarising into a mere 11 tracks, there remains the original freshness of the earlier work, but a tinge of the lonesome creeps in to colour this, a much darker palette, than the abandoned joy of Volume 1.
Sad But True Volume III - Juke Box B-Sides is now available at Penny Lane on CD and Vinyl.